Vi är stolta över att presentera The Perfect World Foundations nya internationella ambassadörer, Dr Sylvia Earle och hennes dotter Liz Taylor.
—
Sylvia A. Earle,
National Geographic Society Explorer in Residence Dr. Sylvia A. Earle, called Her Deepness by the New Yorker and the New York Times, Living Legend by the Library of Congress, and first Hero for the Planet by Time Magazine, is an oceanographer, explorer, author and lecturer with experience as a field research scientist, government official, and director for corporate and non-profit organizations including the Kerr McGee Corporation, Dresser Industries, Oryx Energy, the Aspen Institute, the Conservation Fund, American Rivers, Mote Marine Laboratory, Duke University Marine Laboratory, Rutgers Institute for Marine Science, the Woods Hole Oceanographic Institution, National Marine Sanctuary Foundation, and Ocean Futures.
Formerly Chief Scientist of NOAA, Dr. Earle is the Founder of Deep Ocean Exploration and Research, Inc. (DOER), Founder of the Sylvia Earle Alliance (S.E.A.) / Mission Blue, Chair of the Advisory Council of the Harte Research Institute, inspiration for the ocean in Google Earth, leader of the NGS Sustainable Seas Expeditions, and the subject of the 2014 Netflix film, Mission Blue. She has a B.S. degree from Florida State University, M.S. and PhD. from Duke University, 27 honorary degrees and has authored more than 200 scientific, technical and popular publications including 13 books (most recently Blue Hope in 2014), lectured in more than 90 countries, and appeared in hundreds of radio and television productions.
She has led more than 100 expeditions and logged more than 7,000 hours underwater including leading the first team of women aquanauts during the Tektite Project in 1970, participating in ten saturation dives, most recently in July 2012, and setting a record for solo diving in 1,000 meters depth. Her research concerns marine ecosystems with special reference to exploration, conservation and the development and use of new technologies for access and effective operations in the deep sea and other remote environments.
Her special focus is on developing a global network of areas in the Ocean, "Hope Spots," to safeguard the living systems that provide the underpinnings of global processes, from maintaining biodiversity and yielding basic life support services to providing stability and resiliency in response to accelerating climate change.
Her more than 100 national and international honors include the 2013 National Geographic Hubbard Medal, 2011 Royal Geographical Society Patron's Medal, 2011 Medal of Honor from the Dominican Republic, 2009 TED Prize, Netherlands Order of the Golden Ark, Australia's International Banksia Award, Italy's Artiglio Award, the International Seakeepers Award, the International Women's Forum, the National Women's Hall of Fame, UNEP 2014 Champion of the Earth, 2014 Glamour Woman of the Year, Academy of Achievement, Los Angeles Times Woman of the Year, UN Global 500, and medals from the Explorers Club, the Philadelphia Academy of Sciences, Lindbergh Foundation, National Wildlife Federation, Sigma Xi, Barnard College, and the Society of Women Geographers.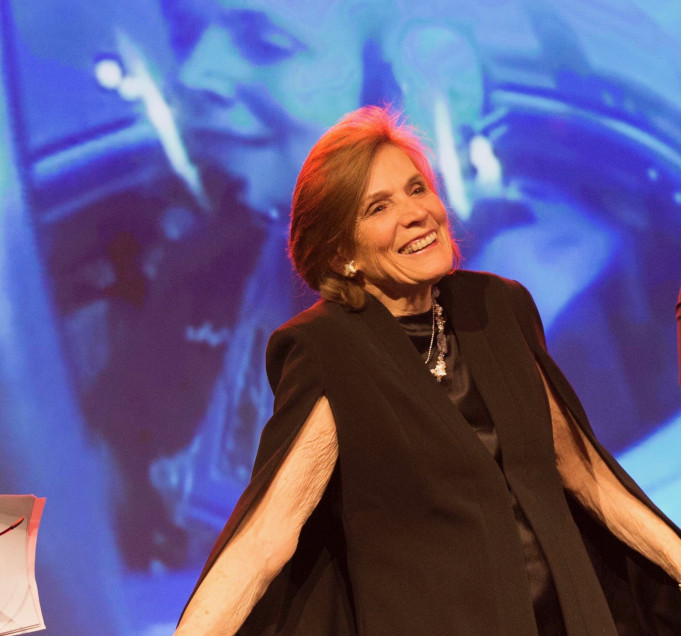 —
Liz Taylor has been involved with DOER Marine from its inception and became President and CEO in 1994. In addition to general administration, she handles new business development, public- private partnerships, and special projects. The company designs and builds subsea robotic and manned systems for a variety of applications ranging from deep ocean exploration to critical infrastructure inspection.
She was selected as a representative for a US Department of Interior trade mission to Guam, Saipan and the Marianas Islands. From 1993 to 1995 she served as President of the Perry Foundation's Caribbean Marine Research Center, one of the only US undersea research centers to utilize manned submersibles and ROVs together on a year round basis. Previously, she held an executive position with a leading ROV manufacturing firm for more than eight years.
Through the work of DOER, Taylor has been involved in numerous projects relating to coastal restoration, water/waste water management, levees, and public access to the water. She is an advisor to the Wild Oyster Project – a program focused on restoring native oysters and to San Francisco Bay to improve water quality and shoreline integrity. She is actively involved with several groups working on ocean plastics and methods for upstream/coastal capture of plastics. She served on the Deep Water Horizon Study Group at Cal Berkeley and continues to collaborate on Gulf restoration efforts.
She has participated in more than 60 scientific and educational ocean exploration projects including work with the California Academy of Sciences, National Geographic Society, Ocean Conservancy, BBC, Discovery Channel and The Explorers Club. She is a member of the Marine Technology Society, The Association of Diving Contractors and The Explorers Club. Taylor is a graduate of the University of California, Berkeley. She has authored a number of technical and natural history articles and white papers.